For the latest news and special sales prices, join our mailing list at http://motherofpearlforwoodworkers.com.
Leonard Musical Instruments sells and manufactures a variety of products for musical instrument construction and decoration.
We are now selling CNC Fixed Size Mother of Pearl Blanks. Our line of Reconstituted Stone Inlay materials is unequalled in the industry.
We have 9 different standard Truss Rod Cover designs and we can make custom covers on a production run basis for you.
We have a new line of Guitar Picks which are custom made just for us.
We sell laminated shell veneer Martin Style pickguards. See our Pickguard Page for photos of these VERY beautiful guards.
We custom design and manufacture a line of Custom Steel String Acoustic Guitar Rosettes. We work mostly in Abalam (laminated natural shell), but we can do commissions in various natural shells also. See our Abalam 1/4 sheets that we sell.
We are currently prototyping Reconstituted Stone Rosettes. We manufacture various small items such as custom inlay dots in Acrylics and Corian.
Contact us for custom CNC inlay part design and manufacturing work. We sell many different materials and tools for Musical Instrument Inlay including a complete line of Crushed Stone and Shell products.
Please request our available product and price list by e-mails.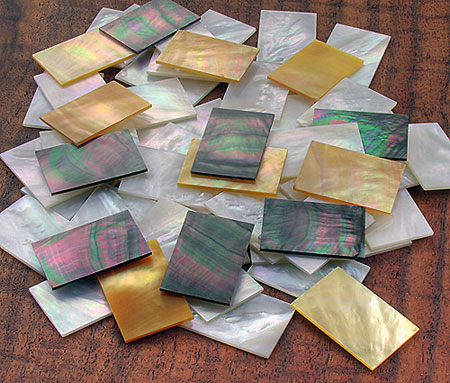 Leonard Musical Instruments was started by myself, James Leonard, as a natural out growth of my Guitar Building hobby. I have become more and more involved in the business since 1998. I now operate a small Internet based business out of my home, working part time. I sell on eBay and directly through this Web Site. My eBay ID is 'guitarmakingstuff'. Most of my inlay products and tools are sold through my eBay store which acts as my shopping cart for this web site.
I am a member of the Guild of American Luthiers, the Association of Stringed Instrument Artisans and the Musical Instrument Makers Forum. Please check my eBay feedback, which I am quite proud of.
If you are interested in CNC for Musical Instrument Construction, Inlay, or just in general visit the CNC Zone. This is the most active CNC forum going and it has a special forum category for virtually any interest. There is indeed a category for Musical Instrument Construction.

Contact Information