CNC Fixed sized Mother of Pearl Inlay Blanks
Figured White, Premium Black & Honey Gold
We are offering WONDERFUL 1.000 x 1.500 x .060 fixed size Inlay Blanks for CNC applications. They are available in FIGURED White, Premium Tahitian Black, and Premium Honey Gold colors. Large quantities are available on a regular basis. Let us supply your monthly production needs.
All of these blanks are already POLISHED so if your inlay application is into a flat surface you can just use them as they are WITHOUT an extra finishing step!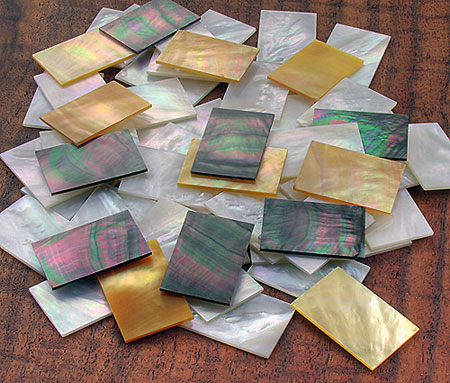 Try a sample pack and see what we can do for your Fine Woodworking / Furniture / Musical Instrument decoration operations.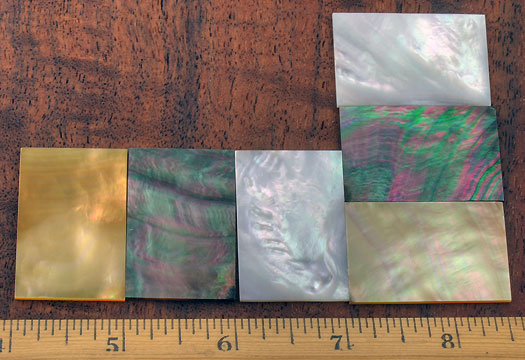 We also have VERY premium 1.250 x 1.750 x .080 thick Figured White Mother of Pearl Inlay Blanks for radiused surface inlay applications. These are knife scale grade blanks, made from a different shell.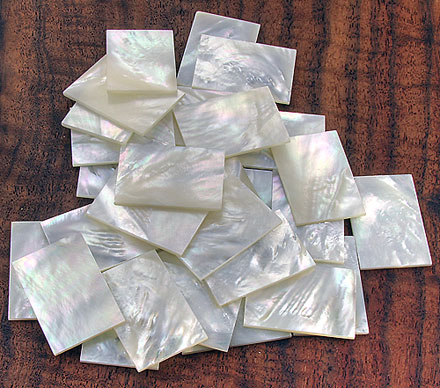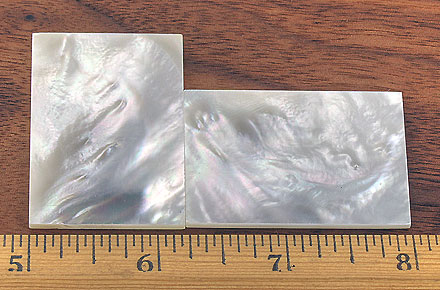 Pricing:
1.000 x 1.500 fixed size - .060 thick
Tahitian Black

Gold

Figured White

Retail
$5.00 each
$4.00 each
$4.00 each
Qty 25
$4.00 each
$3.50 each
$3.50 each
Qty 100
$3.25 each
$2.85 each
$2.85 each
Sample Pack
$25.00 (2 Black, 2 Gold, 2 White - free shipping - one per customer)
1.250 x 1.750 fixed size - .080 thick

| | Figured White |
| --- | --- |
| Retail | $5.85 each |
| Qty 25 | $5.15 each |
| Qty 100 | $4.35 each |
| Sample Pack | $10.00 (2 pieces - free shipping - one per customer) |
1.500 x 2.000 fixed size - .060 thick

| | White Mop |
| --- | --- |
| Retail | $6.00 each |
| Qty 25 | $5.50 each |
| Qty 100 | $4.75 each |
| Sample Pack | $11.00 (2 pieces - free shipping - one per customer) |